Timber Flood Resistant Doors
A new product for flood resilience, the (bespoke) flood resistant hardwood door. Each door is manufactured specifically to fit the door frame intended to be protected.
Our new Flood Resistant Door has been specifically designed to satisfy the Environment Agency Water exclusion and Water inclusion strategy. Conforming to these strategies is absolutely key to ensure the well being of any owner/occupier of a property during a real flood event.
We are always trying to improve the range of products we are able to offer, and after careful consultation with Utility Companies, Local Authorities , the Insurance Industry , the Environment Agency and of course homeowners, we have developed and can now install a bespoke product that does not require installation at the first sign of flood, a product that doesn't need to be removed once the flood has subsided, a product that works passively to protect your home or property. Designed and manufactured locally, we believe this aesthetically pleasing solution perfectly complements the flood guards range of products.
The door is manufactured to fit your particular door frame and is installed by trained professionals with many years experience in fitting these types of products, it can be fitted within a day and give peace of mind for years to come. The door comes with a 1 year manufacturing guarantee as well as a 1 year Installation Guarantee

Door Features:
Manufactured from high quality Hardwood, Secured flood resistant system, Fully fitted sealed Door frame,Fully waterproof door core, 1 Year Manufacturing Guarantee, 1 Year Installation Guarantee, High Quality Locking system, Passive protection from flooding, Installed by fully trained and qualified technicians, Wide choice of styles, colours and finishes available
See actual door below installed for a local authority (Yes its really a flood door!!) see more examples on our PDF file below

For more information tel 01904 607681
To get a guide price for a door please help us by sending an email to info@flooddivert.co.uk with a photo of your existing door (external and internal images) and some approx sizes, also let us know if you want the new door to look similar to your existing door, or what style you now want (again send a photo?) with this info we can work out an approx cost for you.
To get an accurate cost for the door a site survey will have to be carried out, please note that there is a charge for this service.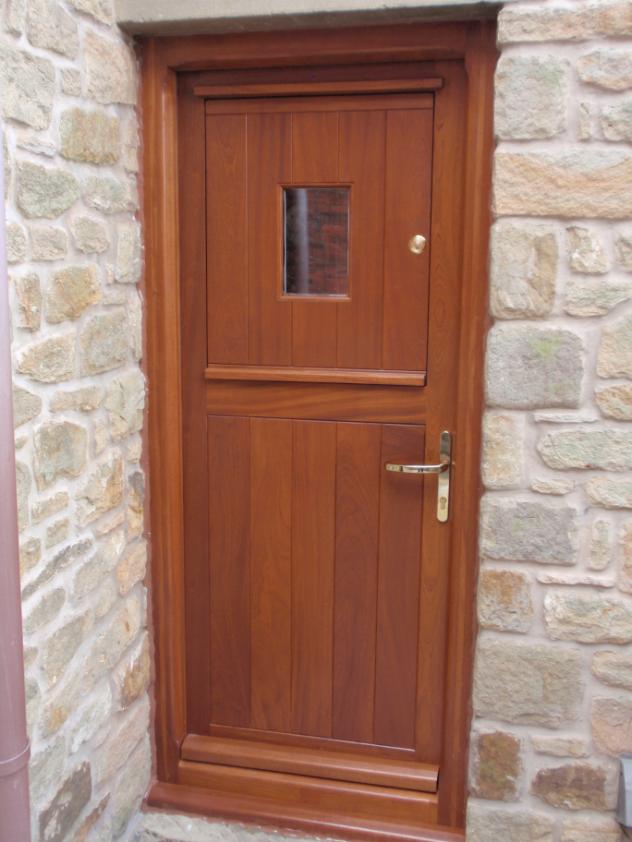 Please view the video below showing the testing of the door
Customer Testimonial and photos
The river came out from 5.30pm to 9pm and again during the early hours. Not a drop came into the house. We're very pleased with how the door works - it means I have a less stressful life when it rains heavily as it did on 23/12/13.
Photo attached of the outside and inside.